Whether you're hosting a networking happy hour or a professional conference, the success of your event depends on effective collaboration. As a full-service event and video production company, we work closely with various professionals to bring your vision to life. To produce successful events, we frequently collaborate with:
Hosting a successful event requires collaboration among many different teams. Often, event production teams must work across different time zones while juggling simultaneous projects. Thanks to our Strategic Creative process, where we immerse ourselves in your brand, we're uniquely prepared to bring your vision to life with help from some of the best event professionals in the industry. Here's how we take your event to the next level with a collaborative approach.
Step 1: We identify the best vendors to fulfill the event objectives.
During the early stages of the event production process, we work closely with you to understand key components of your event, like the target audience, your goals, and the event theme. These factors enable us to select the best vendors to meet these components. 
For example, our client CAIR Coalition wanted networking to be a primary focus of their 2022 Awards Gala. We worked with a furniture rental company to create an event space that supports mingling and movement throughout the venue. Rather than furnishing the venue with tables and chairs, we focused on providing open space with standing tables. That way, people could enjoy chatting with other guests while also taking in live entertainment. 
Check out our case study to learn more about this dynamic event experience.
Step 2: We collaborate with your marketing team to develop engaging event content.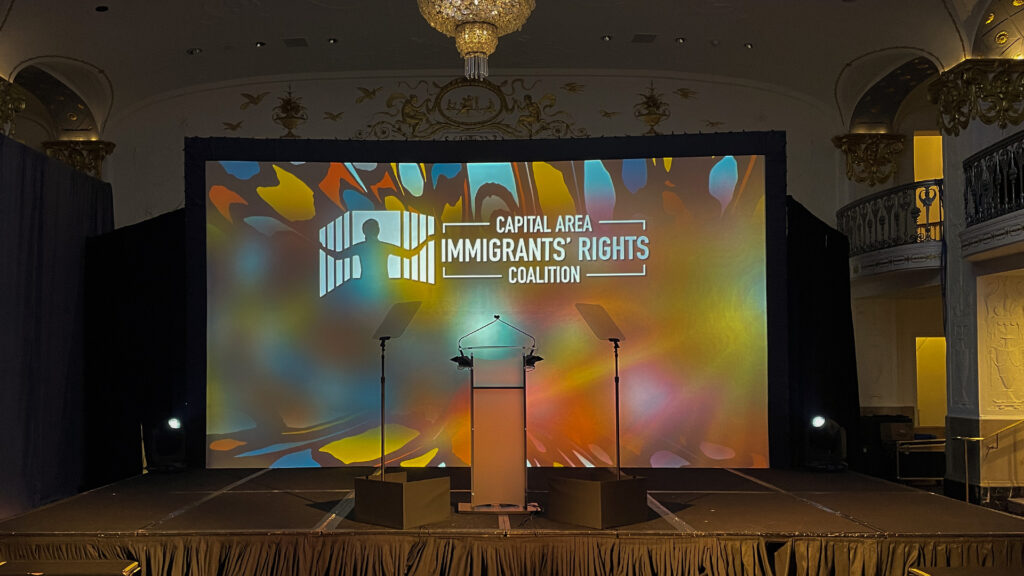 As the experts on your brand, your team members are an integral part of our production process. Whether you have a team of one or twenty, we take the time to connect with your in-house marketing team to ensure every aspect of your event reflects your brand. From what color lighting we use to illuminate the stage, to the music we incorporate, every little detail counts. And your team helps us ensure your brand personality shines through.
A telecommunications client has enlisted our help to produce engaging event content for all-hands meetings, virtual conferences, trade shows, and more. For each project, we work as an extension of their team. Their team supports us in delivering the brand message, while we ensure each aspect of the experience – from video content to the digital event platform to VR experiences – tells their story.
Step 3: We support your event speakers with cutting-edge technology.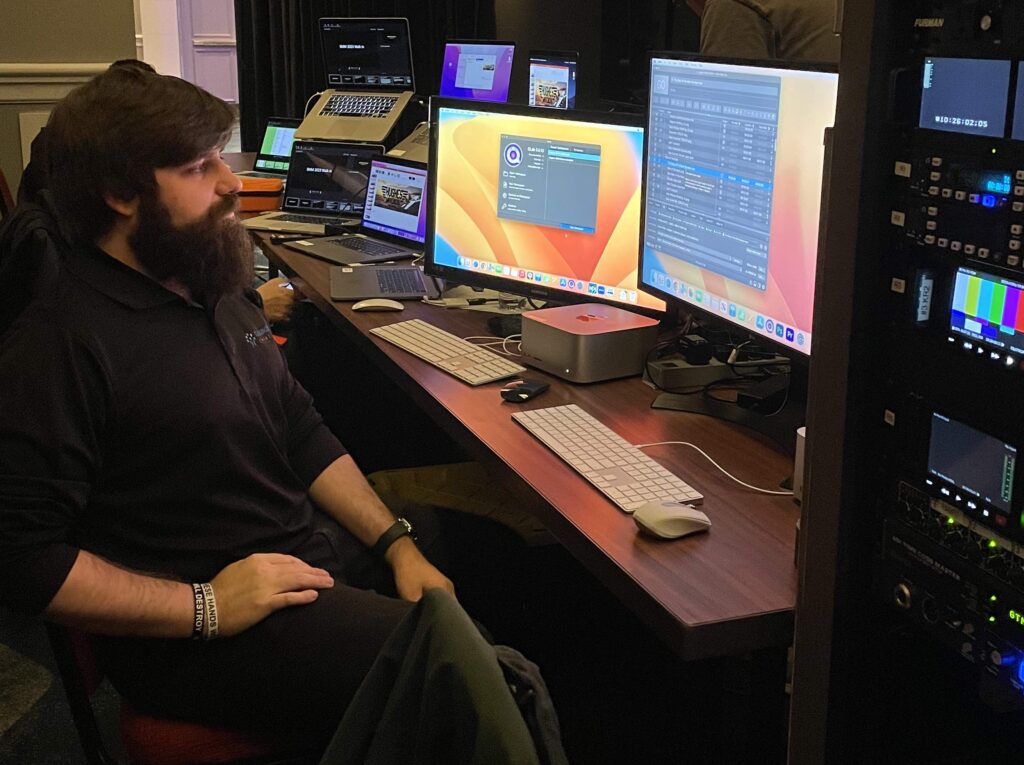 For many companies, technology is one of the most important and intimidating elements of producing an event. Whether hosting an entirely virtual event or incorporating a hybrid component, flawless tech integration is essential to your success. Interactive technology can keep virtual attendees engaged, facilitate networking for attendees and cultivate memorable experiences. 
Regardless of what format your event takes, we ensure your team and guest speakers are trained on essential technology. Even if your speakers are presenting from the comfort of their own homes, we can supply them with the tools they need and simple guidelines to follow. With support from our event professionals, your speakers can feel confident at showtime. 
Learn more about the essential event technology you need to host virtual and hybrid experiences. 
Collaborate with TalkingTree Creative for your next event
Events are a team effort. We take pride in getting to know your brand on an intimate level, so we can build the best team of event professionals to tell your story. View our case studies to see how our highly-collaborative approach delivers unforgettable event experiences.